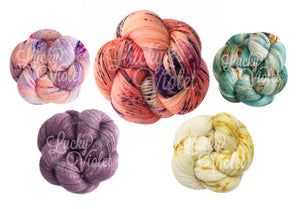 Lucky Violet Color Co
Anemone 5-Color Palette "D"
Regular price
$ 150.00
$ 0.00
Unit price
per
Colorways in this Curated Palette Kit:  Anemone, Island, Caramel Corn, Thistle, and Anemone No. 2  (5 colors, 500 grams of yarn total)
You may order this palette on a variety of our Groups A Yarn Bases. 
Our hand painted yarns are micro-brewed by individual fine artists.  Variations between hanks reflect the beauty of these one-of-a-kind, artist creations. When you order multiple hanks in the same colorway, they are dyed in one batch and great care is taken to match hue, tint/shade, variegation, and sprinkles.  Even with that, there may be some variations between hanks ... such is the nature of our fine art fiber products.  
Processing Times:   Please check --> here for the latest updates to our processing times.
---