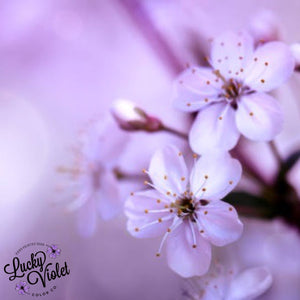 Lucky Violet Color Co
Cherry Blossoms 2023 #3
Regular price
$ 34.00
$ 0.00
Unit price
per
Limited Edition Cherry Blossom Festival 2023 Colorways -- March 20, 2023 the 111th annual Cherry Blossom Festival began in Washington, D.C.  Each year, we celebrate the Cherry Blossom Festival with a series of Limited Edition colorways inspired by gorgeous images of Cherry Blossoms  you are going to love! 
The Cherry Blossom Festival celebrates the anniversary of the gift of trees from the Mayor of Tokyo to Washington, DC.  The annual event is sponsored by a not-for-profit organization dedicated to promoting the beauty of nature and international friendship, among other things.
This year we are offering a limited number of Cherry Blossom Festival mystery colorways and kits.  We begin our festival with these three choices, and will release 1 or 2 more each day for a few days.  Cherry Blossom Festival orders will ship by the end of April.
Kit Choices, and What You Get
Single Semi-Solid Color:  A semi-solid inspired by the most prominent color in this photo, on the yarn base you wish and in any quantity needed.  (100g yarn each).
2-Color Brioche Kit:  (200g) Two 100g highly contrasting colors.  One is a very dark semi-solid, the other is a light colorway with colorful speckles and splashes. 
3-Color Palette:  (300g) Three colorways inspired by this photo, ready to become your next most beautiful shawl!
5-Color Shawlography Kit:  (500g) Five colorways designed to work perfectly for Steven West's "Shawlography" pattern (or any similar multi-color shawl).  Colors: Semi-solids and tonals in various contrasting strengths of color and complementary colors. 
Our hand painted yarns are micro-brewed by individual fine artists. Variations between hanks reflect the beauty of these one-of-a-kind, artist creations. When you order multiple hanks in the same colorway, they are dyed in one batch and great care is taken to match hue, tint/shade, variegation, and sprinkles.  Even with that, there may be some variations between hanks ... such is the nature of our fine art fiber products.  
Processing Times:   All orders for these limited edition colors will be processed in the order they are received.  Please check --> here for the latest updates to our processing times.
---