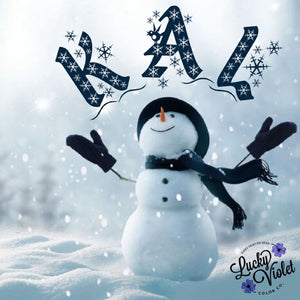 Lucky Violet Color Co
Christmas and All Holidays KTOG 2021
Regular price
$ 6.00
$ 0.00
Unit price
per
This listing is for a series of two (2) DIGITAL DOWNLOADs for the 2021 Christmas and All Holidays knit along, a scarf pattern.  The knit along pattern will feature an original design by knitwear designer J. L. Fleckenstein and will be hosted in the Fleckenstein and Friends group at Ravelry where you can find pattern support and share your photos while praising the photos of others.
Our 2021 Christmas and all Holidays KTOG begins this year on December 23rd.  We encourage you to find a Christmas or Holiday themed audio book to listen to while knitting this year...we will be listening to "A Christmas Carol" by Charles Dickens!
Complete details regarding this knit along are contained in the first file you will download,  the "Intro Packet".   The day the KAL begins you will receive a second download link which will provide you with the complete pattern. 
The Intro Packet and the pattern are only available here, at Lucky Violet Color Co.  

The Intro packet provides all of the information needed in terms of yarn and tool requirements, clue release dates, etc.  So, please download this document and review to get your questions answered.
We are also micro-brewing a very limited number of special holiday colors for anyone who wants something new and special to knit with but you must order by December 7th so we can ship in time for Christmas holiday knitting on the 23rd.  Sorry, but we will not be able to ship any International Orders for these colors in time for Christmas Eve delivery.  You can still order it if you are international, you just won't receive it by that date.
Click --> here to see what colors are inspiring our Holiday 2021 dyeing magic. 
Skill Level:  Easy pattern to follow.  
---